Columbia Roofing Services: The Best Roofing Contractor for Your Roof Repair Needs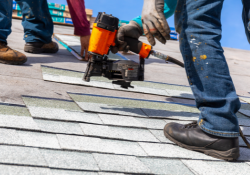 Are you in need of roofing services in Columbia, MD? American Remodeling Corp. is here to help. Our team of experienced professionals has been providing top-quality roofing services since 2000. As a trusted Columbia roofing contractor, we specialize in roof repair and installation, ensuring that your home stays safe and comfortable.
Our team understands that your roof is one of the most important components of your home, and that's why we take our work seriously. We only use the highest-quality materials and employ the latest techniques to ensure that your roof lasts for years to come. We also offer comprehensive roofing services, including:
Roof repair
Roof installation
Roof replacement
Storm damage repair
Check for Certifications and Insurance
Before hiring a Columbia roof repair contractor, it's important to check for certifications and insurance. A reputable roofer will be licensed and insured, which means you won't be held liable for any accidents or damages that occur during the roof repair process. Additionally, factory certifications can demonstrate a roofer's commitment to quality and excellence. At American Remodeling Corp., we are fully licensed and insured, and we hold certifications from industry-leading manufacturers such as the GAF Master Elite Contractor status.
Read Reviews and Testimonials
One of the best ways to find a reliable Columbia roofer is by reading reviews and testimonials from past clients. Look for reviews on the contractor's website, social media pages, and other online directories. You can also ask for references and contact them directly to get an idea of what it's like to work with the roofing contractor. At American Remodeling Corp., we take pride in our long-term customer relationships and the exceptional service we provide. Our clients have consistently given us glowing reviews and testimonials, which we proudly display on our website.
Get Multiple Quotes
Before hiring a Columbia roofing company, be sure to get multiple quotes. This will help you compare prices and services to ensure you're getting the best deal possible. Keep in mind that the cheapest option isn't always the best - it's important to balance price with quality. At American Remodeling Corp., we provide transparent and competitive pricing for all of our services. We work with our clients to provide customized solutions that fit their needs and budgets.
Increase Your Insurance Reimbursement with American Remodeling Corp.
Are you having trouble with the claims procedure after a fire, tornado, hail, vandalism, flood, smoke, or other natural disaster destroyed your property? Help your insurance claim with American Remodeling Corp.

We can support and negotiate your insurance claim as a licensed public adjuster, License No: 3000388785 NPN: 18916745. We'll review your insurance coverage, examine your losses and damages, and prepare an estimate to negotiate a binding and equitable settlement with the insurance carrier on your behalf.

Remember, only contractors like American Remodeling Corp. with a Maryland Insurance Administration public adjuster license may legally represent you. Call (410) 799-9600 to see how we can help with your insurance claim.
Conclusion: Call American Remodeling Corp. for Quality Columbia Roofing Services
By following these tips, you'll be well on your way to finding the best Columbia roofing contractor for your roof repair needs. At American Remodeling Corp., we are dedicated to delivering exceptional service, quality, and value. With our passion for excellence, attention to detail, and commitment to customer satisfaction, you can trust us to make your home renovation dreams a reality. Contact us today to learn more about our Columbia roofing services and how we can help you protect your home with a high-quality roof.